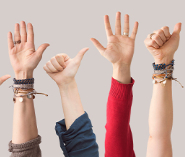 Charles University launches a form for offering or requesting volunteer assistance.
We record requests especially from medical students and medical institutions.
If you are studying in a non-medical field or you are an employee, please follow the instructions here.
Volunteering for the Charles University outside the medical fields is coordinated by the Carolina Center.
Thank you very much for your help offer, Centrum Carolina